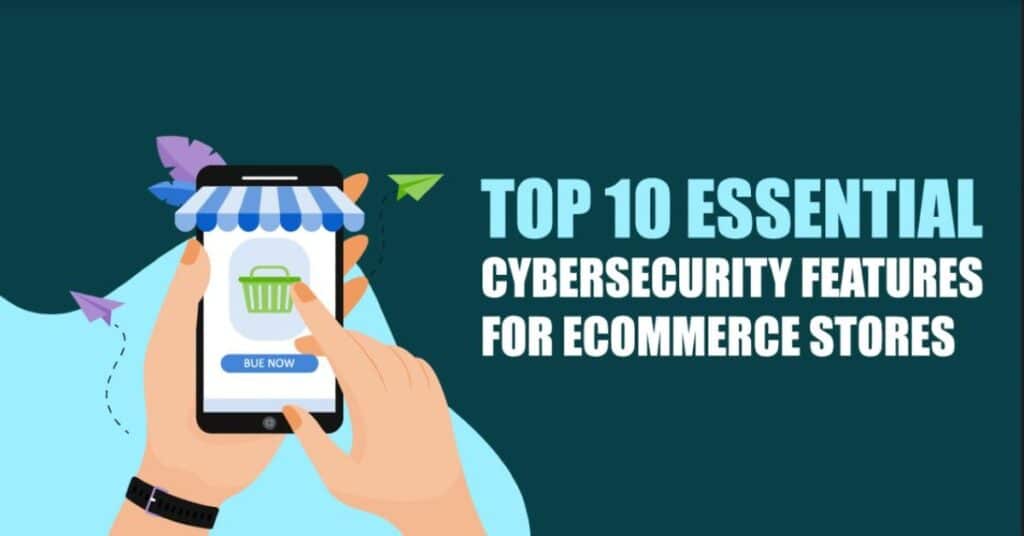 The Covid19 pandemic has forced several service providers, restaurants, and merchants to close their stores. As a result, most of them had to rely on their website and online stores to keep their business afloat. This has made eCommerce security very important for business owners.
If you are selling something online through your business website, then you will need to implement the necessary security practices to ensure the website's security. In other words, cybersecurity is essential for eCommerce businesses because cyberattacks will result in the loss of both data and revenue.
Why Cybersecurity Is Important For Ecommerce Businesses
It is crucial to understand that eCommerce websites have been one of the common targets of cybercriminals. This is because most eCommerce stores have large volumes of financial and personal data. Data breaches and other cyber attacks will surely hurt all kinds of businesses irrespective of their size.
Ecommerce businesses that have become victims of a data breach or cyber attack will lose customers' trust. This is why eCommerce business owners must ensure that they have adopted all essential security features to protect their business and customers.
The VMWare Carbon Black 2020 Cybersecurity Outlook Report, published after surveying several businesses, revealed a few valuable insights. The report revealed that nearly 77 per cent of surveyed companies invested in new security products while 69 per cent have increased their security staff.
There isn't any foolproof method to protect eCommerce businesses and stores against cyber attacks. However, you will be able to considerably reduce the chance of falling prey to cyber-attacks by increasing the security of your eCommerce store by strictly following the below-mentioned practices.
1. Multi-Factor Authentication
Two-factor authentication, which is also called multi-factor authentication, should be enabled on all eCommerce websites and stores. If you have enabled two-factor authentication, then a code will be sent to the user to double-check or confirm when they try to log in.
If anyone has managed to acquire your user credentials, then two-factor authentication will prevent them from logging into the store with your credentials.
In such cases, customers trying to log in to your store will have to clear one more level after entering user credentials. This is because a code will be sent to users through email, SMS, or phone call, and they will have to add the code to complete the login.
2. PCI-DSS Compliance
Ecommerce business stores that permit credit card transitions will need to be PCI compliant. Businesses are advised not to store the credit card details of customers on their servers. Keeping such sensitive information is risky because cyber attackers may end up getting access to them.
So, instead of storing sensitive information, eCommerce business owners should consider offloading them to a third-party payment provider. The compliance level of PCI-DSS ranges from level 4 to level 1 based on the number of transactions in a year.
3. Virtual Private Network (VPN)
Ecommerce businesses that wish to ensure greater security should use a Virtual Private Network or VPN. Using a VPN allows enterprises to conduct business over a secure and encrypted connection and securely store user data over unsecured public networks.
Internet users should try to avoid using public Wi-Fi networks when they are shopping online. This is because it will be relatively easy for cybercriminals to get their hands on confidential user data on public Wi-Fi networks.
4. Buy SSL Certificates
SSL certificates are essential for eCommerce websites and stores. Most payment gateways will not allow you to conduct financial transactions on your website if it doesn't have an SSL certificate. So, it is best to buy an SSL certificate for your website to avoid such troubles. It ensures encryption of in-transit data between the web server and client browser.
The URL of your website will change to HTTPS from HTTP once you have installed an SSL certificate. As a result, users who are visiting your website will see a green padlock icon, which guarantees that the website is secure. This will increase the trust of customers and urges them to do business with you again.
5. Use reCAPTCHA
Another effective security measure that will keep hackers away from your website is the reCAPTCHA method. ReCAPTCHA will be generating random questions, which bots will not be able to answer.
ReCAPTCHA does an excellent job of adding an extra layer of security, impenetrable for a bot or code. ReCAPTCHA offers protection to the contact form pages, payment gateway pages, form submission pages, login, and signup pages.
6. Opt For A Reliable CMS Platform
Ecommerce businesses need to select the best CMS platform available out there. Choosing a mediocre CMS platform might indeed help you save some dollars, but it is not worth it. This is because businesses that opt for mediocre CMS platforms are at a higher risk of cyberattacks.
CMS platforms like Joomla and WordPress have millions of customers, and they regularly update security patches to keep hackers out. If you are using a reliable CMS platform, all you need to do is periodically update it.
7. Avoid Installing Unsolicited Plugins And Extensions
You will surely need to use a few extensions and plugins to boost the reach of your website. Plugins and extensions allow you to make use of different features and tools. However, not all extensions and plugins are safe to use. This is why it is always best to avoid using and installing unsolicited extensions and plugins.
8. CVV verification
Card Verification Value or CVV is the four or third-digit code, which can be found on the backside of credit cards. Online fraudsters may have credit card numbers, but they very rarely have CVV.
As a result, CVV verification will add an extra layer of security to your eCommerce website by allowing you to identify and stop fraudulent transactions quickly.
9. Regularly Monitor Your Website
Most website owners and admins should monitor their websites for threats regularly. You will easily spot hazards and risks during website monitoring, which will allow you to prevent cyber attacks. Website monitoring will also make it easy for you to identify the signs of DDoS attacks.
10. Data Backups
Nearly 60 per cent of small-scale companies that have encountered a data breach or cyberattack have gone out of business in less than six months. The primary reason for this is the loss of website files, customer data, and other crucial business data. Fortunately, you will be able to avoid data loss through regular data backups.
11. Software Update
Cyber attackers often look for eCommerce stores or websites with vulnerable software systems. Most developers will launch a new update whenever they discover vulnerabilities. This means that websites that update software systems whenever a recent update or patch is available will be less prone to cyberattacks.
Final Thoughts
Customers look for quality products and services when shopping online from eCommerce websites. In addition, they also want a safe and secure online shopping experience. This is why most brands look for additional steps and measures to increase the safety of their ecommerce websites and stores.
Fortunately, most ecommerce websites will be able to prevent the chances of data breaches and cyberattacks by taking all of the above-mentioned security measures.